Monthly Taizé Services on the 3rd Sunday of the month
Christ Church URC & St Francis
alternate
Taizé style services in 2022
the NEXT service will be hosted by
St Francis
on 15 May 2022
@ 5pm
Below is a little about the Taizé community and how the services will be conducted with venue and dates.
The Taizé Community is an ecumenical Christian monastic fraternity in Taizé, Saône-et-Loire, Burgundy, France.
It is composed of more than one hundred brothers, from Catholic and Protestant traditions, who originate from about thirty countries across the world. It was founded in 1940 by Brother Roger Schütz, a Reformed Protestant. Guidelines for the community's life are contained in The Rule of Taize written by Brother Roger and first published in French in 1954.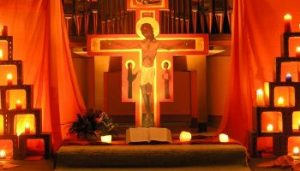 The community has become one of the world's most important sites of Christian pilgrimage, with a focus on youth. Over 100,000 young people from around the world make pilgrimages to Taizé each year for prayer, Bible study, sharing, and communal work.
Through the community's ecumenical outlook, they are encouraged to live in the spirit of kindness, simplicity and reconciliation. The community's church, the Church of Reconciliation, was inaugurated on 6 August 1962.
THE SERVICE
The service is a simple one of simple chants interspersed with periods of silence for prayerful reflection. Each chant will be played through once and then we will sing it several times before allowing it to fade naturally into silence.  Each period of silent reflection will last about 4 minutes. Towards the beginning of the service a short passage will be read which may be useful (or not) as the basis for reflection during the rest of the service. Another short reading comes later.
At the start of the service while piano music is being played, you are invited to place a lighted candle with others around the altar. At the end of the service piano music will also be played, during which please  move to the back of the church where we hope you will join us in some refreshments , or leave quietly
Taizé worship will normally take place at St. Francis and alternatively Christ Church URC on the third Sunday of each month at 5 pm.
PLEASE DO COME AND JOIN US FOR THESE SPECIAL SERVICES
ALL WILL BE WELCOME