Bromley Brighter Beginnings aims to:
to provide essential baby, child or household items to local families in financial hardship;

to raise awareness about the level of poverty in the London Borough of Bromley and the impact of this poverty on the lives of children and their parents;

to fund occasional activities & essentials for women and children living in domestic violence refuges;

to signpost families to other local sources of support as necessary;

to thereby reduce stress, anxiety and depression, which will in turn help the children in these deprived families; and

to facilitate the recycling of baby- and child-related items that the original owners no longer use.
Since we started in 2012, we've made a difference to over 500 families
If you want to support this charity through Christ Church URC then please donate here using the reference BBB
2020 Christmas Hampers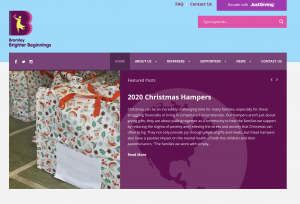 Christmas can be an incredibly challenging time for many families, especially for those struggling financially or living in complicated circumstances. Our hampers aren't just about giving gifts; they are about pulling together as a community to help the families we support by reducing the stigma of poverty and relieving the stress and anxiety that Christmas can often bring. They not only provide joy through physical gifts and treats, but these hampers also have a positive impact on the mental health of both the children and their parents/carers.
"The families we work with simply don't have the luxury of enjoying Christmas. Instead, they worry about the lack of gift for a child that still believes in Father Christmas or they stress about the fact that during the school holidays there will be no free school meals."
Nancy Lengthorn, Christmas Hamper Coordinator and Trustee
Our hampers are packed full of supermarket vouchers to buy food, toys and books for the children, cosy pyjamas and Christmas jumpers, and toiletries, books, toys, gifts and Christmas treats.
"I've just given a hamper to a single mum of 3 children and she is over the moon. I can't tell you how much this hamper was needed. I can't believe the quality of the toys and books in there, it's just wonderful, thank you"
Health visitor – Penge    
For more information click here