The call to Christian discipleship is a call to adventure.
Holy Habits explores this adventure through a rich mix of biblical material and inspiring stories. The life-giving, transforming role of ten habits seen in Acts 2 are re-imagined for personal and community life today. The ten habits are: biblical teaching, fellowship, breaking of bread, prayer, giving, service, eating together, gladness and generosity, worship and the making of more disciples.
The Holy Habits written by Andrew Roberts is based on Luke's snapshot of the life of the early church as is shown in Acts 2: 42-47
42 They devoted themselves to the apostles' teaching and fellowship, to the breaking of bread and the prayers.
Life among the Believers
43 Awe came upon everyone, because many wonders and signs were being done by the apostles. 44 All who believed were together and had all things in common; 45 they would sell their possessions and goods and distribute the proceeds[a] to all, as any had need. 46 Day by day, as they spent much time together in the temple, they broke bread at home[b] and ate their food with glad and generous[c] hearts, 47 praising God and having the goodwill of all the people. And day by day the Lord added to their number those who were being saved.
 A bit more about Andrew Roberts – he is a Methodist minister presently serving as a Discipleship specialist in the Discipleship and Ministries Learning Network. Previously he was Fresh Expressions Director of Training. He co-authored the critically acclaimed fresh!, an introduction to fresh expressions and pioneer ministry.
Below is an introductory clip to the Holy Habits
If you would like to buy the Holy Habits book click any of the links below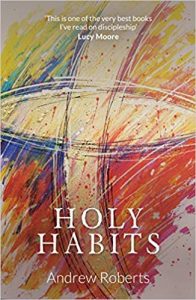 Christ Church URC Petts Wood will be engaged with the Holy Habits from
October 2019 – July 2020
We will be taking a look at a Holy Habit each month through preaching and small groups
The preaching plan is below and there are 6 Holy Habits groups (see Holy Habits notice board in the church for details or send us a message below for details)
We have co-leaders for all our groups. There is a parents group and a children's group (meeting at the same time) and a number of groups meeting throughout the week at differing times
If you would like to find out more about the groups send us a message here
Programme for  2019 and 2020
OCTOBER – Prayer
NOVEMBER – Serving
DECEMBER – Gladness and Generosity
Holy Habits 2020
JANUARY – Biblical Teaching
FEBURARY – Making More Disciples
MARCH – Worship
APRIL – Breaking Bread
MAY – Sharing Resources
JUNE – Eating Together
JULY – Fellowship
Testimonial 
Grounded in practice and real life stories and surrounded by theory, erudition and wide reading, this is one of the best books I've read on discipleship. The examples come from all round the world, from different sources, from fresh expressions and traditional Christians, from elderly people and young ones, women as well as men. I love the way the habits are every day, ordinary, do-able ones: this feels very godly.
Lucy Moore
Messy Church